Digital Signage for
Industrial Sites
Effective communication improves workplace engagement and safety by
20%
Workers who are engaged and safe produce fewer quality defects by
41%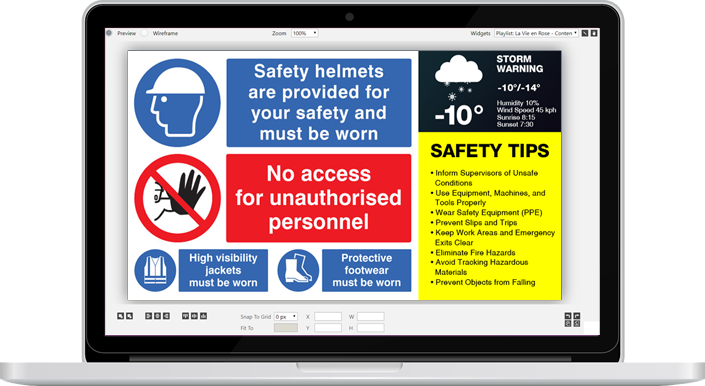 Prioritize Safety
Manufacturers need to communicate with workers that do not have access to computers or email while at work. Many may be located in different locations across the company or around the world.
Digital signage used in industrial environments is a highly impactful way to communicate with all employees. From digital screens in cafeterias and break rooms, to production line screens that integrate with back office data and display critical information. Keep your employees informed of safety measures as well as updated policies and procedures.
Engage Employees
Engage employees with team photos, event videos and messages regarding charitable initiatives. Improve employee morale by recognizing employee accomplishments. Ensure a safe working environment by creating an emergency broadcast override system to keep employees aware of inclement weather or impending danger.
Control access to your building or specific areas and promote a safe working environment with integrated safety features, including an emergency broadcast override.
Improved Internal Communication
Effectively communicate with employees regardless of plant size or number of locations
Keep employees informed of safety measures as well as updated policies and procedures
Build team spirit with team photos and event videos
Recognize employee accomplishments
Ensure a safe working environment with emergency alerts
Corporate Branding
Extend digital communication to entrance ways and lobbies with impressive video walls
Greet guest with personalized welcome messages
Promote new products and services in waiting areas
Reduce Costs
Reduce effort and associated printing and logistics costs of static communications that may never be read
Replace printed materials with dynamic and visually engaging content
Request a Demo
When you request a demo, our digital signage experts will reach out to you to learn about your communications needs to get a deeper understanding of you, your challenges and goals. We will schedule a meeting with you and your team where we will demonstrate and discuss how our hardware, software, technology, and services can address your objectives. Request your demo today: