Digital Signage for
Property Management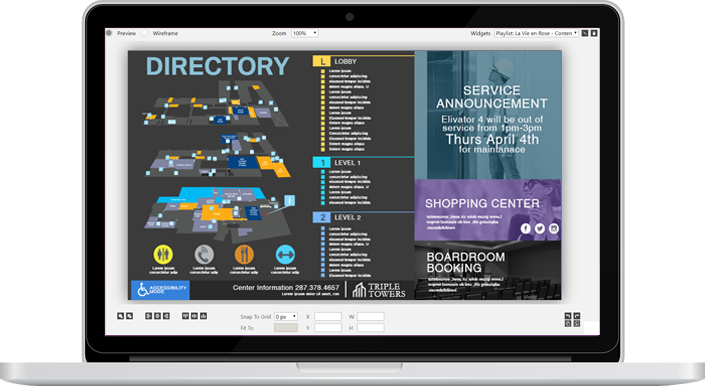 Effective Tenant Communication
Informed staff and tenants can make property management easier. Digital signage helps keep your facility running smoothly with current information delivery and practical functionality. It also adds a sophisticated and modern look.
Display building directories, advertise tenants of maintenance schedules and show upcoming events. Create a great customer experience with digital signage that can come in the form of kiosks, video walls or interactive touchscreens.
Communicate important information to tenants and take advantage of key features such as wayfinding, safety features, emergency broadcast and more.
---
Keep your audience informed.
Visualize relevant messages and updates in a most attractive way
Increase content flexibility and customization
Welcome visitors to your property with personalized messages
Entertain and decrease elevator wait time
Inform about fire alarms testing or other property's maintenance procedures
Advertise upcoming events and activities
Reduce Costs
Manage your network remotely
Cost reduction on printing and installation
Save on logistics costs
Safety Improvement
Display directions
Alert notifications and actions required
Instant broadcast
Become a Partner
Become a solution provider for digital signage.
With the Corum Digital Partner Program, you become a solution provider for digital signage. This tool will open up a new way to engage with your customers.