Digital Signage for
Automotive Businesses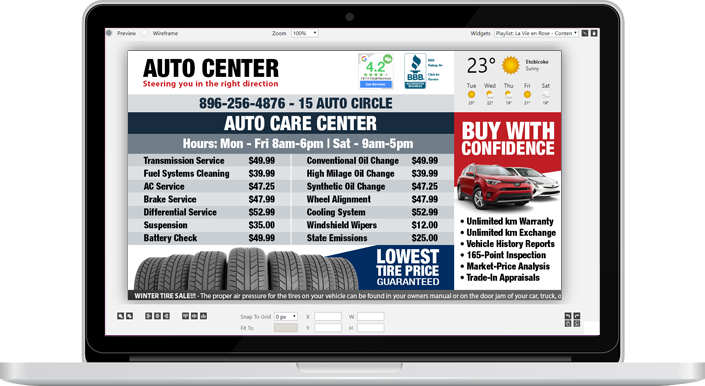 Enhance the Vehicle Buying Experience
Showroom:
Use digital signage to engage and empower customers to browse New Vehicle features, options, colors, and promotions or to showcase and show off your CSI Rankings.
Service/Parts:
Increase your $ per RO by visually offering the service package that increases your bottom line. Draw attention to your ever-changing promotions, sales, quick lube lane status, or sales on tires or parts.
Corporate Communications:
Speak to your internal stakeholders about news, events, job postings, promotions, OEM info/campaigns and CSI Score status in your region.
Create an immersive digital experience, so each individual has a personal interaction with your brand.
---
Sales Growth
Promote products such as Extended Warranties, Rust & Paint Protection
Display vehicle inventories with striking images and video
Influence consumers at the "point of decision"
Use interactive touch displays so prospective customers can explore vehicle features
Deploy Wi-Fi/Bluetooth beacons combined with purpose built mobile apps to increase awareness
Engage Customers
Reduce perceived wait times in waiting areas
Include body shop specials, finance offers, tire programs to increase awareness
Enable engagement with a "Dealer TV" Digital Signage Network
Target content for specific areas and dealership locations
Motivate Sales Staff
Using leaderboards recognize sales leaders
Employee of the Month programs
Teach staff with the latest training videos and tutorials
Immediate and consistent messaging from head office to all dealerships
Reduced print costs while communicating effectively with dynamic messaging
---
Become a Partner
Become a solution provider for digital signage.
With the Corum Digital Partner Program, you become a solution provider for digital signage. This tool will open up a new way to engage with your customers.