Digital Signage for
Educational Facilities
87%
of schools, from K-12 institutions to universities and colleges, already use digital signage to streamline communication and lesson plans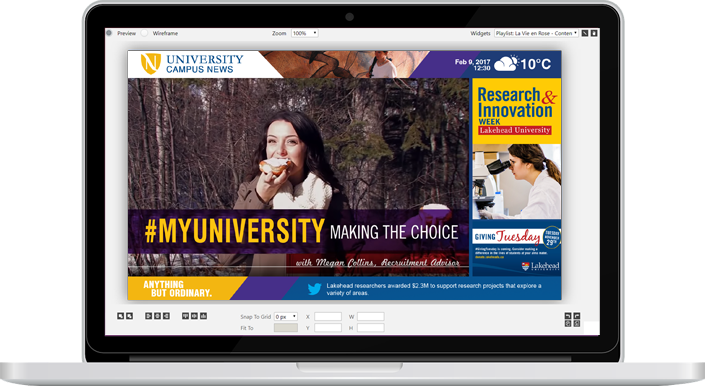 More effective campus wide communication.
Engage and inform students in common areas, classrooms, libraries, cafeterias/food courts, sports centers, meeting rooms and student housing. Include interactive Wayfinding kiosks and integrated mobile applications to ensure your digital message is consistent and effective throughout your campus. Create a safe environment by including an emergency broadcast override system across all displays.
Communicate with students the way they communicate naturally, digitally!
Keep students aware of inclement weather or impending danger with safety notices.
Digital signage systems engage and communicate with your students, faculty, and staff.
Student Communication
Promote school events such as career seminars, student groups and sporting events
Centralize your digital communication while still being able to give local departments access to certain zones on a display or department specific displays
Enhance school spirit by engaging students with relevant and entertaining information
Replace printed materials with dynamic and visually engaging content that students notice
Reduce printing costs and save time by not having to print many copies of an event poster or marketing material, only to have them thrown out right after the event
Keep Students and Faculty Informed
Extend digital communication to entrance ways and lobbies with impressive video walls
Greet guest with personalized welcome messages
Promote new products and services in waiting areas
Up-sell your products and services to your clients using displays during your sales demonstrations
Outside of the Classroom
Wayfinding to help students navigate campuses
Cafeteria menu boards can be changed by just a few clicks
 Job postings and job fair notices
Create revenue opportunities by adding zones to displays for potential advertisers
More effective campus wide communication.
Request a Demo
When you request a demo, our digital signage experts will reach out to you to learn about your communications needs to get a deeper understanding of you, your challenges and goals. We will schedule a meeting with you and your team where we will demonstrate and discuss how our hardware, software, technology, and services can address your objectives. Request your demo today: