Digital Signage for
Banking & Financial Institutions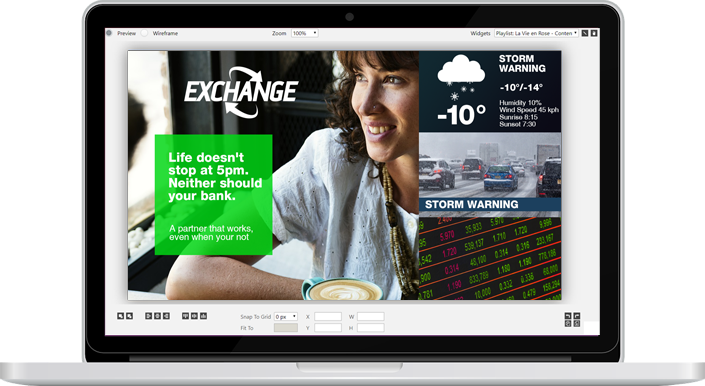 The personal banking experience can be improved with digital signage that helps entertain and inform customers while they wait.
Engage customers by using real-time updates on interest rates, stock prices, current local news and weather. Let customers know about products and services, and current promotions. Employees can also receive changes to policies, staff acknowledgement and special event notices. Most of all, your content remains relevant so customers have confidence in your brand. Targeted messaging and offers can be deployed throughout different branches so you can customize what each region sees. And the best part? We do everything for you, from installation to on-going training and guidance every step of the way.
Create an immersive digital experience, so each individual has a personal interaction with your brand.
---
Improved Customer Satisfaction
Engage customers with real-time updates on interest rates, quotes, stock prices
Provide targeted content based on branch or region with current local news and local weather
Inform customers with product offerings, service details, company news and current promotions
Reduce perceived wait times, while entertaining and informing your customers
Employee Engagement
Communicate changes in policies and procedures
Recognize employees using employee spotlights
Create leaderboards
Provide training videos and tutorials
Additional Revenue Opportunities
Up-sell and cross-sell financial products and services
Announce new product offerings
Remind customers to prepare for upcoming financial events
---
Become a Partner
Become a solution provider for digital signage.
With the Corum Digital Partner Program, you become a solution provider for digital signage. This tool will open up a new way to engage with your customers.