Digital Signage for
Hospitality Venues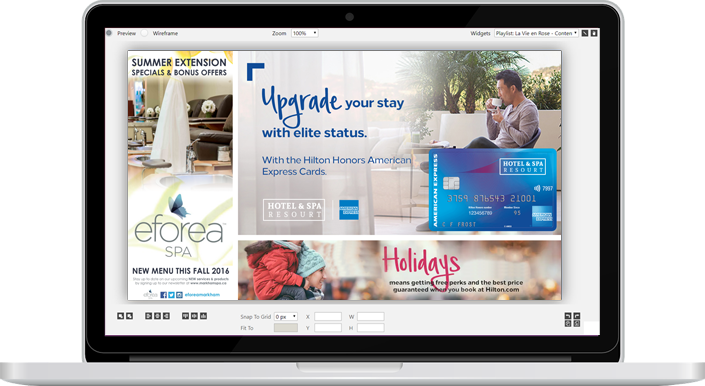 Create Guest Loyalty
The inherent high traffic nature of hotels and hospitality venues provide a great opportunity for corporate branding and communication.
Keep your guests entertained and informed while creating a modern and visually appealing facility. Simplify communications with digital displays in lobbies, elevator banks, conference/banquet areas and restaurants. Streamline concierge services with touch interactive displays and improve location services with
interactive wayfinding kiosks
.
Provide guests with dynamic flight departure and arrival information. Create a safe environment by instantly converting your displays into an emergency broadcast system.
Create an immersive digital experience, so each individual has a personal interaction with your brand.
---
Efficient Communication
Highlight facility amenities and services
Promote in-house activities and entertainment schedules
Display daily menus and catering services
Provide dynamic flight arrival and departure information, including delays and cancellations
Add compact digital displays outside of meeting rooms to display room booking information
Utilize Emergency Broadcast Messaging to keep guests and staff safe
Engaging Guests
Utilize interactive Kiosks to streamline concierge services
Guide guests by incorporating wayfinding kiosks for easy location of event rooms and facilities
Allocate displays in concierge area to promote local attractions and events
Branding
Improve the customer experience with stunning Video Walls in the front reception area
Ensure consistent branding across your entire facility
Reduce Costs
Reduce time and printing costs of location maps, daily schedules and activities
Replace potentially bland printed materials with more dynamic and impactful content
Save on logistics costs for printed materials
Manage your entire network from any browser, anywhere
---
Become a Partner
Become a solution provider for digital signage.
With the Corum Digital Partner Program, you become a solution provider for digital signage. This tool will open up a new way to engage with your customers.