Role-based access for digital signage networks enables administrators to designate workload responsibilities, adds security, and the ability to grant 3rd party access to selected zones and content.
Individualized Access
The firmCHANNEL platform features a simple role-based access system that allows administrators to assign individual users access to specific zones/areas in the
Content Designer
. The administrator can assign or restrict access as desired, ensuring that the right content is controlled by the right user.
Dividing the Workload
By assigning access to specific content areas, administrators can divide responsibility amongst multiple people. This type of access allows individuals to manage their specific content responsibilities without worry of overwriting any other individual or becoming overworked. Additionally, with an approval process, network operators can control what is being released to each screen. It's very simple to add or change the level of access to the individuals working in the system. And with an unlimited number of users, you can assign as many content managers as you need to maintain your network.
Added Security
The firmCHANNEL platform has a simple role-based security so you can restrict access to specific zones/areas in the CMS. This ensures that the right content is controlled by the right user. Having individualized permissions creates an added layer of security for your content. Individuals are unable to edit or change areas of content that are not specifically assigned to them and are only able to access specific types of content that are approved for use in that area. Changes made by individual are logged for quality control and
security
.
3rd Party Access
Digital signage networks provide opportunities for driving additional revenue or implement partnership deals by allowing 3rd party content (advertising, sponsorships, etc). In some cases, trusted partners are given controlled access to the platform so they can easily upload and display their content. Specific permissions can be assigned to that specific content area ensuring that a 3rd party partner can only affect their own content area.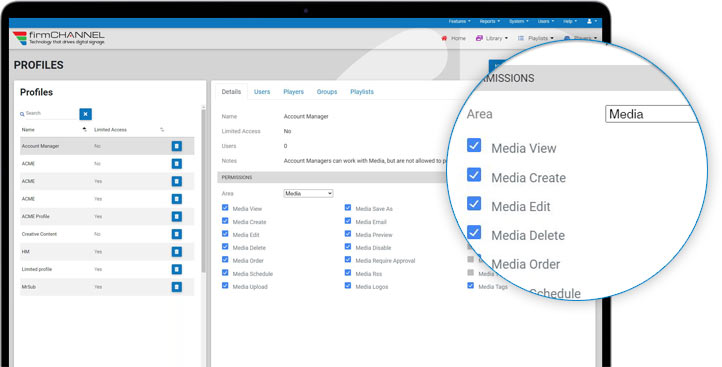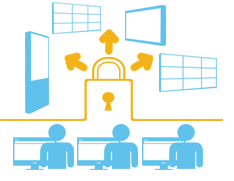 Request a Demo
When you request a demo, our digital signage experts will reach out to you to learn about your communications needs to get a deeper understanding of you, your challenges and goals. We will schedule a meeting with you and your team where we will demonstrate and discuss how our hardware, software, technology, and services can address your objectives. Request your demo today: