Digital Signage for
Retail Businesses
Average transaction value is higher in stores with digital signage by
29.5%
Digital signage increases average customer browsing time by
30%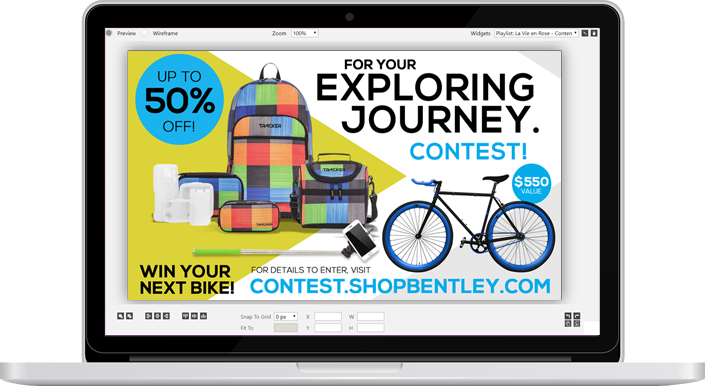 Create an immersive retail experience with interactive and engaging digital signage solutions.
Empower consumers with interactive kiosk and allow them to explore your products with ease. Department specific displays will let customers focus on current promotions or new products. Using Digital Signage technologies for retail provides endless opportunities to cross-sell/up-sell. Multi-screen Video Walls create the perfect wow factor, utilizing visually stunning content.
Create an immersive digital experience, so each individual has a personal interaction with your brand.
Improve the Retail Experience
Attract consumers with a captivating visual experience and immersive visual content
Empower consumers with interactive displays and kiosk
Inform consumers with new product videos
Engage consumers with targeted content based on Anonymous Video Analytics and WiFi/Bluetooth Beacons
Display in-store promotions based on locations
Cross sell and upsell in store products
Attract and influence consumers right at their "point of decision"
Branding
Build brand equity with videos, lifestyle selling and dynamic content
Messaging can be targeted based on location
Create and schedule playlists for specific market and store demographics
Integrate social media feeds and brand hashtag
Reduce Costs
Reduce printing and logistics costs of static communications that may never be read
Replace printed materials with dynamic and visually engaging content
Save on logistics of materials that need to be shipped to different locations
Request a Demo
When you request a demo, our digital signage experts will reach out to you to learn about your communications needs to get a deeper understanding of you, your challenges and goals. We will schedule a meeting with you and your team where we will demonstrate and discuss how our hardware, software, technology, and services can address your objectives. Request your demo today: