Digital Signage for
Corporate Communication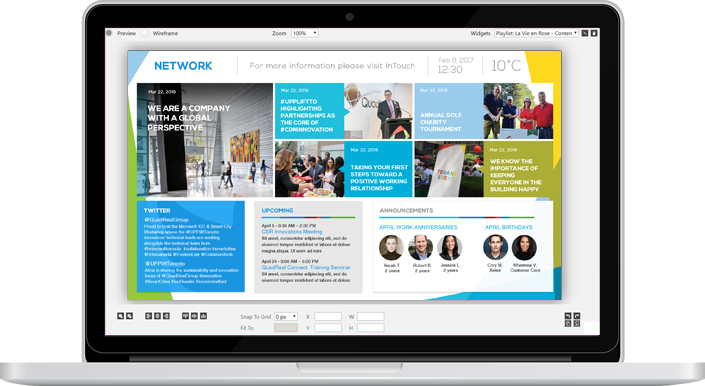 Digital signage that engages, informs and empowers your employees regardless of office size or number of locations.
Digital signage has many uses in a corporate environment. You now have the ability to consistently and effectively communicate with your employees regardless of office size or number of locations. Companies that operate out of several offices or manufacturing locations can find it difficult to communicate with remote employees. Using workplace digital signage ensures a common vision and corporate culture, while making content locally engaging in areas like break rooms, cafeterias and factory lines.
Engage employees.
Engage employees with team photos, event videos and messages regarding charitable initiatives. Improve employee communication and morale by recognizing accomplishments and creating team leader boards. You can also use digital signage to train employees who work in remote locations so there is consistency in training.
Make an impact on clients, improve branding, and enhance employee communication.
---
Improved Communication
Improve employee communication regardless of office size or number of locations
Ability to train employees who are in remote locations
Build team spirit with team photos and event videos
Recognize employee accomplishments
Ensure a safe working environment with emergency alerts
Corporate Branding
Extend digital communication to entrance ways and lobbies with impressive video walls
Greet guest with personalized welcome messages
Promote new products and services in waiting areas
Up-sell your products and services to your clients using displays during your sales demonstrations
Reduce Costs
Reduce printing and logistics costs of static communications that may never be read
Replace printed materials with dynamic and visually engaging content
---
Become a Partner
Become a solution provider for digital signage.
With the Corum Digital Partner Program, you become a solution provider for digital signage. This tool will open up a new way to engage with your customers.