Digital Signage for
Healthcare Facilities
Poor communication costs hospitals an annual total of
$12 billion
Digital signage can reduce perceived wait times by up to
35%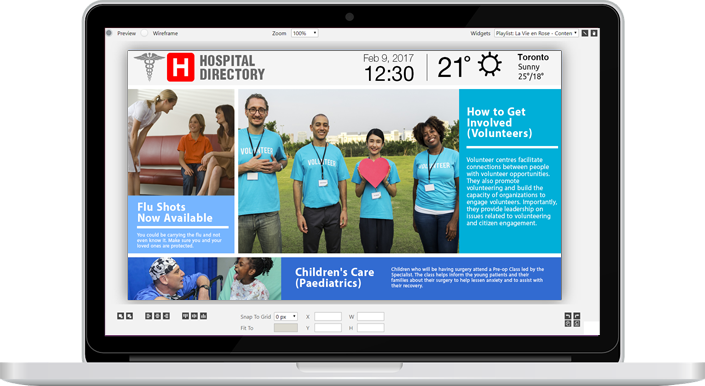 Digital Signage is a MUST HAVE for Healthcare Facilities
Adding digital signage to waiting areas, hall ways, and common areas will engage your visitors with relevant real time information such as health tips, directions or facility information. Interactive kiosks are a great way to welcome visitors with a modern look of the facility using a digital directory. Digital signage solutions is a most effective way to visualize content and convey your message to an audience. Dynamic visual communication is easy to consume and very user-friendly.
Healthcare is changing at a rapid pace.
Digital signage is an opportunity to visually communicate utilizing content that is interactive, engaging and educational. This is accomplished using a variety of visual communication mediums such as
video walls
to recognize donors, interactive kiosks to provide
wayfinding services
, self-service kiosks to expedite check in, information screens in high traffic areas to communicate new services, as well as zoned cable television displays in waiting areas to reduce perceived wait times.
Deliver important messaging clearly and effectively while improving operational efficiency and patient confidence.
Visitor and Patient Communication
Consistently and effectively communicate with employees regardless of office size or number of locations
Interactive Wayfinding and Directory displays increase faculty satisfaction
Cafeteria and menu boards can display accurate nutrition information
Information displays in high traffic areas increase awareness of services
Self-service kiosks for improved check-in times
Entertainment displays in waiting areas decrease perceived wait times with live TV, newsfeeds and local weather
Increased safety
Quick Broadcast – Send emergency notifications to alert visitors, patients and staff in emergency situations
Internal Communication
Staff recognition displays increase employee morale
Informational displays keep staff aware of current policies and procedures
Request a Demo
When you request a demo, our digital signage experts will reach out to you to learn about your communications needs to get a deeper understanding of you, your challenges and goals. We will schedule a meeting with you and your team where we will demonstrate and discuss how our hardware, software, technology, and services can address your objectives. Request your demo today: