OUR OFFERINGS
firmCHANNEL offers a complete Digital Signage Solution so our resellers can focus on their business.
Juggling multiple vendors is tough. FirmCHANNEL offers everything you need to set-up and manage your clients digital signage network. Our equipment is purpose built to meet the rigorous demands of a signage network, and we have a seasoned team who can install any system, including setting up a cellular connection. Our cloud based server infrastructure is managed entirely by our team leaving you free to focus on your clients.
KEY FEATURES
The firmCHANNEL platform allows our resellers control and flexibility to easily manage a client's digital signage system.
Our platform is an intelligently designed solution so resellers can easily manage their clients. The features play an integral role in helping you understand each client and how they are using their system, and how you can further help them. From reports that are focussed on delivering quality data to being able to schedule content remotely, our resellers are always set up for success.
---
Client Management

Manage all your clients in one place. Our homepage provides software announcements, including everything your clients media players status and and content.
Easy Content Scheduling

Easily schedule any content that your client needs including images, videos and quick broadcasts - all with a few clicks!
Robust Content Designer

The Content Designer was designed to create content easily for anyone on the team. Build media using our intuitive, widget based, drag and drop tool.
Up-time Monitoring

Always stay ahead with email notifications if your player needs some attention or if changes are required.
Data Driven Reports

Our platform has the ability to generate reports on the system, including the players, their status, including playback. Know which players are online and offline and what content each is playing.
Proof of Playback

A proof of playback report provides the analytics around total viewers, gender
Enhanced Security

Having a secure system allows your clients data to be safe and secure. All activity is time-stamped so you are always aware of your system status.
3rd Party Permissions

Maintain precise control over who has access to the system. This includes vendors that are paying to display their content.
Location Targeting

If your clients need to target by location, the platform has a simple way to accomplish that! Display different promotions and products based on area.
Updates and Releases

Our team is constantly working to make upgrades to help you serve your customers better. The releases are based on your feedback so voice is always being heard.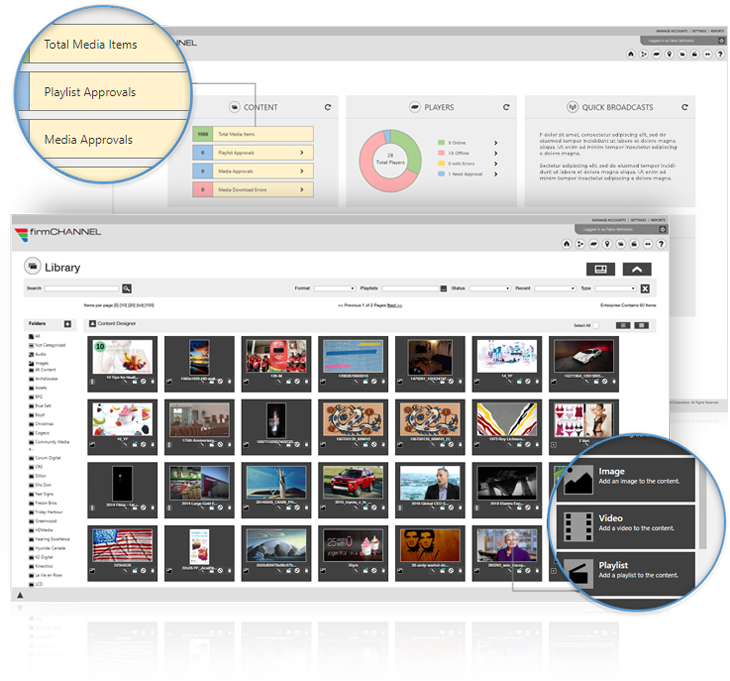 TECHNOLOGIES
Enhance your offering with this unique set of technologies
that allows your customers to expand their digital signage network.
Our objective is to provide you with the best digital signage solution so you can focus on your customers. Our technologies help you create additional value for your customers by adding data analytics, touchscreen interactivity and a more innovative way for them to communicate with their audiences.
---

VIDEO WALLS
Communicate messages with stunning 4K including vivid images and eye-catching videos that are extremely flexible with many variations.

BEACONS
Beacons are small devices that repeatedly transmit a small amount of data via Bluetooth Low Energy (BLE) or Wi-Fi with Bluetooth BLE.

NFC/RFID
NFC is a set of communication protocols that enables communication between two devices. When the devices are a few inches of each other, communication is automatically established.

GESTURE CONTROL
Navigating by using motion, specifically hand gestures to interact with a digital signage system.

SMART PHONE INTEGRATION
Have the ability to deliver digital signage content to smartphones.
April 16, 2018
Heading LATEST NEWS Read the latest news about what we are working on and our latest technological advancements. no-repeat;center top;; auto 140px 0px 30px 0px Introducing
[…]
February 16, 2018
Heading LATEST NEWS Read the latest news about what we are working on and our latest technological advancements. no-repeat;center top;; auto 140px 0px 0px 0px Corum
[…]
NEED HELP?
firmChannel is here when you need it.
If you are looking for more information on our reseller program or would like to be a reseller, please fill out the Reseller form. If you require assistance from our Support team, you can reach out with the contact information below.
SUPPORT:
Tel: 519-800-0831
Toll Free: 1-800-561-7525
support@corumdigital.com
FREQUENTLY ASKED QUESTIONS
What is a firmCHANNEL reseller?
As a reseller under the Corum Digital umbrella, your agreement is to sell the firmCHANNEL platform to your customers. We would provide you with everything you need to run the network, including hardware, software, installation and cellular connectivity.We also include the Training and Support so you are empowered to provide solutions to your customers.
How do I become a firmCHANNEL reseller?
To become a reseller, it is required to discuss with our team what your objectives, strategies and goals are when partnering with us. Once we have discussed this, you will be asked to sign a contract. Once the contract is signed, you are up and running!
Do I need to understand digital signage techology to become a reseller?
If you understand communication strategy, the digital signage technology will be easy to learn. We will provide you all the tools you need to help service your customer.
Will firmCHANNEL branding be visible to my clients?
If you decide that you don't want your clients to see the Corum logo, you can always custom brand your player. This process, called white labeling will let your client see your name and logo.
Who does my client contact if they have a problem?
Since you are the primary contact, they should contact you directly. If you need assistance, or need us to come in and help - we most certainly can.
Do I need to get my hardware or installation from other vendors?
Juggling multiple vendors is tough. If there's an issue, who's responsible? We offer everything you need to setup and manage your network and it's all designed specifically for content delivery. Our equipment is purpose built to meet the rigorous demands of a signage network, we have a very experienced installation team and we can even set you up with a cellular connection if getting connected to the Internet is a problem. What if you have your own equipment? We can work with that too.